When it comes to building a website for your construction business, you might not see how important it will be in the long run. That is why most construction companies do not do further research on what is best for their construction company website.
So sad enough, to say they end up failing within a couple of years. But you do not want to become another failed construction company that will get outrun by someone else, don't you?
That is why we are here to help you figure out how to make your construction company flourish just by the help of Search Engine Optimization. Or what most people call it, SEO. SEO for a construction company is very important. It helps your construction website rank up on google.
Imagine it like this, some of your clients spread the word to their family and friends about your company. And these family and friends seem to be interested in learning more about you.
Well, they can't just go to your construction company and ask. Of course, they will go and try to search for you on Google. So how will you come up on the first page without the help of SEO for your construction industry? Having an optimized website for your construction company will surely make a big difference. It will also get your name out there.
How you can use SEO for a construction company website successfully
The internet today is used more than ever. With people ending up there to find what they really need.
Gone are the days where your construction company was marketed only by a business card or by word-of-mouth. Time has changed and people would prefer to contact you online.
This makes having an optimized website for Construction companies a must. You should understand that Google wants to please its users as much as possible.
So if your content is easy to read, search engine optimized, and appealing to the eyes of Google's users, you will gain a lot of attention.
You might have read some information about SEO for a construction business a few years ago. Or you might be using the same tactic for your construction company to this day.
Well, forget all that information right now. You see things change as the year's pass. But what has changed the most is definitely how to use SEO to rank your page up.
Some of the most important SEO tactics are:
The design of your website
Make sure that the design of your construction website is easy to be used by people who enter your page. The design should also be as appealing to the eye as possible.
Using links from trusted websites
Another secret for ranking up is using links. Of course, you cannot use any kind of link on your content. Use links from scientific sources, government websites, and even trusted bloggers. It is recommended to use 1-2 links per every informational paragraph you write. This helps you with your construction website's page authority. It helps in making you more visible to the public.
Meta description
When creating content for a page it is important to include a Meta description. The meta description should be rich in keywords and shortly explain what the content is about. This helps users know if your page has the information they need before even clicking on your construction website.
The quality of the content
The content is the most important part of your construction website. It should be rich in keywords (but remember, over-adding keywords will reduce quality and will make it hard for your construction page to rank up). The content should contain short sentences and paragraphs. This makes it easy to read.
4 components of SEO for a construction company website
Just like building anything, everything has components. When building a house you need to build in rooms, install tubes, place in furniture, and more.
That is the same in building your construction website. You need the perfect components for creating the perfect website for your construction industry.
We will list 7 basic and important components of SEO for a construction business.
The importance of keywords
When creating content for your construction company, everything mainly revolves around keywords. But you cannot just pick any keyword you think it best fits your page.
Before writing anything you should search for the right keywords that make sense with the topic you are going to write about.
The right keywords are words or groups of words that people most search on google. There are a couple of instruments on the internet where you can find the most commonly searched words in regard to construction.
These instruments are monthly paid in order to use them. But they come in handy by letting you know the right keywords to use.
Keywords are used frequently on the content so when a user searches for that keyword, your construction page will pop up. This will make your construction business more noticeable.
Writing content that is optimized
Respecting the rules of writing content will come in your construction's business help. Well just as you can see the importance of it, I will tell you a story of my own.
I was interested in learning more about fixing my home foundation. I googled it just like anyone else would do. A local construction company showed up and I thought it might be a good idea to click on it. But what I saw shocked me and made me lose the slightest interest I had.
The whole content was written in one single paragraph. No subheadings, no paragraphs, and the longest sentences I have ever seen.
Of course, I did not even have the nerve to read the page's first word. The content seemed just too compressed and did not look appealing to the eye whatsoever.
I might have stayed on that site for less than 5 seconds before finding a website that was easy to read. To not end up like the page I was talking about, you should execute these rules:
Encourage the reader
Readers just feel so much determined to do something when you encourage them. Tell them about your construction company and how you can help them with your services.
Also, readers do not want to hear just how good your construction company is. Inform readers about their problems and how they can fix it themselves.
But always keep in mind to make your reader understand that your construction company will fix the problem flawlessly.
Do you want to promote your construction business website online? feel free to contact with us, we are ready to help you!
Keep everything very simple
Say you go and read an article about physics. You do not really want that complicated mish-mash of deep explanation. You are just someone that wants something simply explained.
This is true when writing your construction website also. Readers do not show interest if you go into depth complicated explanations. Try to use words that are understandable by a wide group of people.
Make it appealing to readers
The structure of the content you write for your construction company's website decides if the reader wants to continue reading or not.
To make your content appealing try to divide the content into big blocks. The way you can divide it is by adding a considerable amount of subheadings.
Try to write an average of 200 words before adding another subheading and so on. Another important thing is using bullet points.
This makes it easy for readers to go through the content with ease. Readers only read what they find interesting for them. Bullet points help the reader read through the content and find what they need.
Use the terms WE, YOU and I
These terms are used to gain the trust of the reader. Even though you might have thousands of people reading your content, you need to make users feel like a unique case. This gives you more leads and more customers, possibly boosting up your construction company.
Links play a big part for your construction website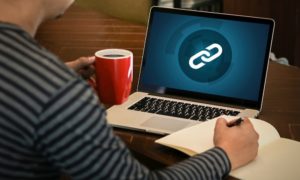 You might be doing everything as well as possible, creating high-quality content and everything. But you are not seeing a really big boost.
Well, that is because you need to add links. You should know that adding links has rules of its own. If you want to do things the way they should and increase your chances through construction SEO, then links make a difference.
The links you should use should always have some kind of connection with your topic. When talking about construction, you should put links that are connected to construction.
Let's take an example. If you are talking about rebuilding windows, you want to put links that are associated with window repair, the best material for window repair, what to know about repairing a window, and more.
These links should be by a verified governmental page, a scientific page, or well-credited websites. Try not to overuse these links. One per every informational paragraph would do.
The next step after you buy a domain for your construction website you should start designing it. Then it will be ready to get launched. But designing is not that easy as you think. You need to search for examples on the internet to soon come up on your own.
After you have an idea of what you want you most likely need to hire a web designer. You will give them the idea and they will make it possible.
But the thing that you want to focus on the most is to really make the website look user-friendly. This means that users should have an easy time going through your website.
They should not struggle to find how your website works. No one has the time for that. Most likely they will just see that your website is not attractive and wander off to another website.
Meta description
Earlier we talked a little bit about how Meta description worked. But there is more to it than just that. The meta description is the one that boosts your construction SEO in the first place, only if you know how to properly crate them.
Just by the name Meta description is about describing all the content you have written for a topic into two to three short sentences. These sentences should be eye-catching and also keyword-rich.
What Meta description does is that it eases the user's search. Users read the Meta description before clicking on your page to see that you really talk about what they are interested in. The reason why it has to be keyword rich is not only because users get interested, it is also that you have a higher chance to get ranked up.
Conclusion
The reason why you need to use SEO for your construction business is said clearly throughout the article. The more optimized your construction website is the more possibility you have to boost up your construction business by gaining online customers.
By boost, we mean that you have more trusted customers that are interested in getting your construction services. More customers mean more word-of-mouth marketing.
This might make you the best construction company in your local area. Believe it or not, you might even end up widening your construction business.